Modern international travel doesn't require much effort. You can do your research, book your trip, and apply for your visa, in a short span of time, all from your mobile phone. Travelling overseas with a pet on the other hand is a process that requires forethought and planning, from getting them certified medically to filling in the additional paperwork, and picking the right airline and the best route. The travelling itself is stressful for your pet, so it requires you to plan carefully. Basically, travelling overseas with pets is not something that can be planned last minute so make sure you give yourself enough time to fulfil all the requirements.
Your first step, once you have decided on travelling with your pet, is to let us know. We can take you through the whole process and assist you every step of the way, so you don't have to stress out and can focus on your trip instead. Before you make an appointment to meet us, send us an e-mail (info@petvet.lk) letting us know of your intention and we will send you information on all that you need to know to make the trip as easy as possible for you and your pet. At your first appointment we will conduct a checkup to make sure your pet is in good enough health to fly, before you put in the rest of the work.
Many Regulations
All countries have regulations regarding bringing in pets, and one of the main reasons for this is rabies. No country wants animals with rabies entering their borders, and this is particularly so in countries that are certified rabies-free. Sri Lanka is not a rabies-free country and it is more than likely that your pet will require not only updated rabies vaccinations but a blood titre test as well. (PetVet of course is more than equipped to handle these and other requirements.)
Another common regulation is the requirement for your pet to be implanted with a 15 digit, non-encrypted microchip. At PetVet we only use microchips that are of ISO standard and that are accepted globally. Microchipping is a straightforward procedure and your pet won't require any after care.
Different countries have different regulations, so the veterinary health certificate required for your pet to travel abroad (which acts like a passport of sorts) will have varying requirements by country. Some countries can require additional vaccinations, like for distemper, leptospirosis, brucellosis, etc. We have a good understanding of what each country's requirements are so we will guide you on what vaccinations are required and how they can be spaced out — if required.
Some countries may also insist on your pet being quarantined for a short period, even after providing proof of vaccinations and other medical requirements, but these are rare.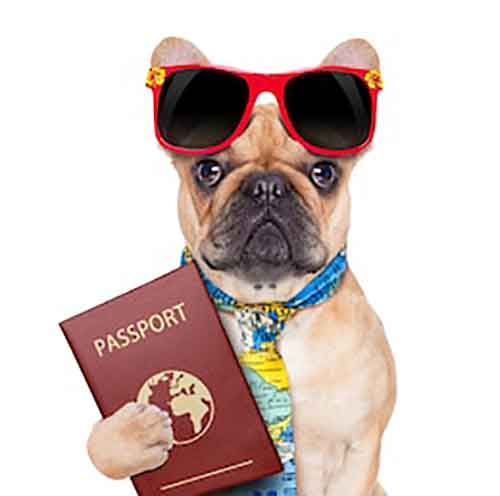 Planning ahead
Planning your trip is another important aspect of travelling abroad with your pet. Just like countries, different airlines too have different rules for travelling with your pets. Some airlines may allow small pets to travel with you in the cabin, but usually pets will be required to travel in the cargo hold. Furthermore, airlines can only accommodate a few animals per flight, so you also have to book early. And make sure the cargo area is air-conditioned or your pet may suffer unnecessarily or even get sick.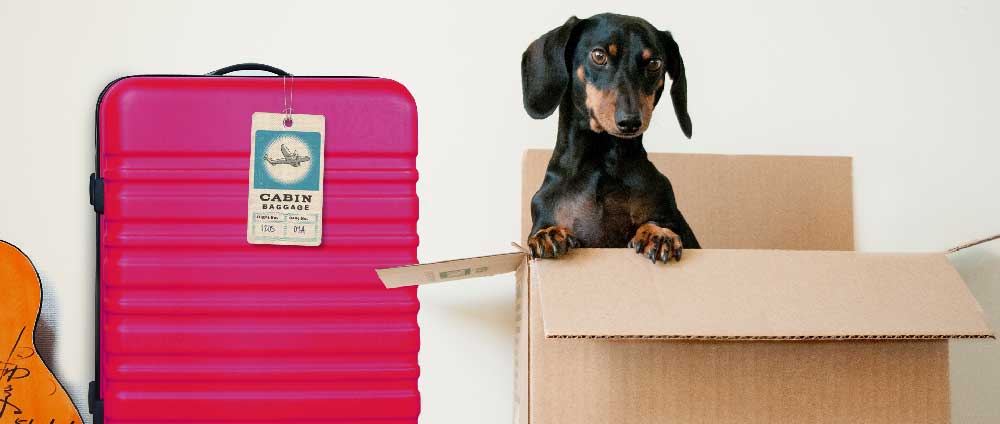 If your trip involves a layover, then not only will you have to make sure your pet is compliant with the regulations of the transit country but that the airport you are stopping in is friendly to pets.
As you get these sorted, you also need to start working with your pet to acclimatise them to air travel. We at PetVet will of course guide you through this entire process which involves building a positive association with the crate/kennel in which your pet will be travelling so that they feel safe and comfortable in it during the actual event. We will also help you get the best suited crate/kennel for your pet, not only in terms of their size and personality but also airline regulations. Keep in mind that this process must be begun at least six months ahead of the travel date.
Once we have helped you through the documentation, certification and acclimatisation processes, we will even have one of our veterinary nurses accompany you and your pet to the cargo bay on the day of travel to ensure your pet is safe and healthy.
Book your consultation
At PetVet we have heaps of experience helping owners successfully travel overseas with their pets. If you are looking to do the same, make an appointment for a pet travel consultation, available from Tuesday through Saturday, at our clinic.
Call 777 738 838 to book your own consultation.